In today's increasingly busy world it's easy to see why some parents resort to screens to keep their children occupied while they get on with the numerous other jobs they have to do. While in some ways this is understandable, studies show that screen time can have a detrimental effect on young children.
For this reason, many parents want to avoid introducing screens too early – after all we know ourselves how addictive they can be don't we? So, what alternatives to screens are there that will keep your little people occupied and engaged?
A music player designed especially for toddlers or young children is the perfect solution. An audio player for toddlers can entertain your little person by reading stories or playing music and will keep them entertained and engaged without a screen in sight.
Listening to music has been shown to have positive effects on a child's development, and what child doesn't like listening to stories (over and over again!!)? These music players for toddlers will also encourage independence, as they are all designed to be operated by children themselves.
| Image | Product | Features | Price |
| --- | --- | --- | --- |
| Best Overall | Toniebox | Child-friendly audio player that is simple to use, durable and appealing to kids. | Check Price |
| Best for Older Kids | Yoto Player | Brilliant combination of Bluetooth speaker, audio player, radio, nightlight and clock all rolled into one. | Check Price |
| Best Smart Speaker | Echo Dot Kids | Colourful kids version of Amazon's hugely popular smart speaker – a fun, cost effective and screen free music player. | Check Price |
| Best CD Player | Groov-e Portable CD Player | A compact, robust and affordable music player, with no internet required. | Check Price |
| Best Speaker | Planet Buddies Kids Bluetooth Speaker | Great value for money, really easy to use, appealing design, and environmentally friendly. | Check Price |
| Best for Young Kids | Fisher-Price Record Player | More of a toy that's best suited for young toddlers, with a cute classic design. | Check Price |
Best Toddler Music and Audio Players
We've picked 6 of the best music players for toddlers on the market to compare. In addition to sound quality and ease of use, we also looked at which supported audio formats they used, how easy they were to set up, durability, overall look, value for money, and size. Most importantly, we looked at whether they could be used independently.
We have also specifically chosen models that do not have extra functions such as games or a screen.
If you are looking for a child-friendly audio player that is simple to use, durable and appealing to kids then look no further than the Toniebox. Once you have set it up and synched it to your wi-fi the Toniebox is operated by placing a 'Tonie' on the cube.
A Tonie is a little painted character that contains music or an audio story, and there is a wide selection to choose from. Or you could opt for the Tonie Creative? On this you can download music and stories from the Toniebox website. You can even record messages to play to your little ones – great when you're away from them or if you want to record family members reading stories.
It's super easy to operate. To stop the sound all you do is take the Tonie figure off. If you tilt the box, it rewinds or fast-forwards. To adjust the volume, you press the Tonie's ears, and to skip songs or stories you tap the sides of the cube. Not only is it great fun for kids to use, it is also extremely robust!
Overall, given all of the amazing features, the Toniebox is our top pick for best music player for toddlers.
The battery lasts for up to 7 hours so it is perfect for long journeys.

Simple assembly

Compatible with headphones (a huge bonus!)

Huge variety of music and stories to choose from

Easy and fun for young children to operate independently
The individual 'Tonies' which contain the music/stories are quite expensive

No 'live' customer support

Some customers have complained that setting up can be problematic
The Yoto Player is a brilliant combination of Bluetooth speaker, audio player, radio, nightlight and clock all rolled into one. And not a screen in sight!
At first glance, it appears to be pretty expensive in comparison to some of the other audio players (e.g. Tonie vs Yoto). However, it represents excellent value for money as it has a far larger library catalogue than other players and the content also covers a wider age-range.
Using it really is as simple as it gets. You pop an audio card into it to start and take it out to stop. Set up is easy using the free Yoto app, and it is not reliant on wi-fi (unless you want to listen to the radio or podcasts – yes there are even child centred podcasts on there!).
It is extremely durable and uses less plastic than equivalent players. It also has a lovely, simple pixelated display. It definitely deserves it's place on our list of best music players for toddlers.
Robust and durable

When you buy audio on the app you can access it on any Bluetooth speaker

You can make your own cards to play on the Yoto player

Huge variety of content – suitable for older children as well as toddlers

Yoto cards are a fraction of the price of the equivalent TonieBox content

Excellent sound quality
Looks a bit plain compared with other players

Most of the content is on Amazon and not eligible for Prime so you will have to pay more expensive postage for a small package.
The colourful kids version of Amazon's hugely popular smart speaker is a fun, cost effective and screen free way for your child to listen to music and stories. Everyone knows how simple an Alexa is to use, and the Echo Dot kids not only plays music but can answer questions, serve as an alarm and help with homework. There is a raft of child friendly content available on Amazon Kids+ along with thousands of books on Audible and interactive games.
Cheap compared with other audio players

Automatically filters explicit content from Amazon Music, Apple Music or Spotify

Small and compact

Attractive design

Easy to use

Can call pre-approved friends and family
Some parents have found that it is hard (or impossible) to share content between different Echo Dots

Available content more suited to younger children so they may outgrow it quickly

Not the most convenient player for travelling although you can buy a battery base and it does hold its charge for a long time.

Not as durable as some of the other players
If you fancy going full-on retro with your little people then this portable CD player could be just the ticket! It is funky and compact, robust and cheap so if you're looking for something relatively basic but affordable this could be the product for you.
It is easy to use but obviously, as we all know, CD's are not the most user- friendly items for little fingers and can easily get scratched and damaged so this may suit slightly older children better.
It does have an inbuilt radio as well, but as it is fairly old-school it needs tuning in the old- fashioned way! If you don't have access to the internet then this is a great option.
Affordable and compact

Comes in a variety of colours

Easy to use (for adults and older children)

You have complete control over what they listen to as you will buy the CD's!

Compatible with headphones
Hard to tune into radio stations

Choice of CD's is not comparable to range of material available on Alexa for example.

Toddlers may struggle to use independently
The super cute Planet Buddies Kids speaker is not a stand- alone music player, it is simply a Bluetooth speaker. However, it is great value for money and really straight forward to use. It is very easy to connect to a device and appears quickly on your list of paired devices.
The sound quality is great and it can go pretty loud considering it's size (not that you would want it to!). It charges through a USB cable and takes about an hour to fully recharge – the run time is several hours so it would be good for long journeys.
If you are environmentally minded (and shouldn't we all be now?) then you will approve of the brand messaging as well. Planet Buddies pride themselves on their sustainable packaging and everything about the product has been recycled and can be recycled.
The speaker comes in a range of different animal characters and they use the packaging to highlight the plight of those animals in the wild.
Compact (will fit in the palm of your hand)

Great sound quality

Eco-friendly

Gorgeous design
Limited controls on the speaker – have to shuffle and adjust the volume using your device

Obviously has to be paired to a device which limits independence
The Fisher Price Record Player is a lovely toy that has been around for so long that you probably had one yourself when you were a child! Although it is definitely more of a 'toy' and only really suitable for toddlers it is hard to resist its cute design.
It comes with 5 records that contain 10 songs in total and its sturdy design means that it can withstand some energetic role play from the toddler in your life.
This toy is perfect for encouraging pretend play in your child while at the same time introducing them to music and nursery rhymes. Beware though – it is not the same as the original. This new version is battery operated rather than wind-up and the sound is produced digitally. So, if you are looking to relive your childhood you may be disappointed.
Easy to us

Robust design

Perfect for role play
Limited to the songs on the records (and they are just the melody, no words)

Wind up mechanism and some of the buttons are only there for appearances

Sound quality is not great
Best Overall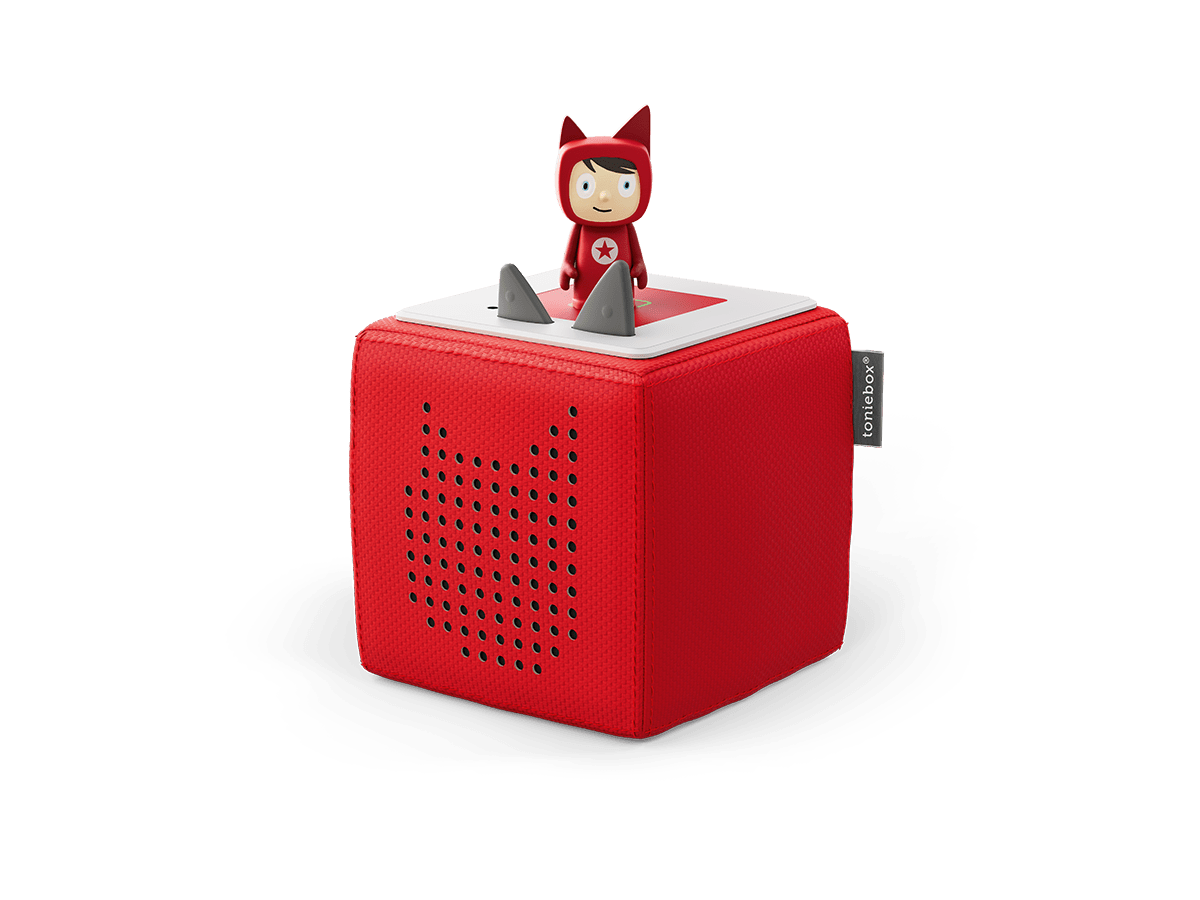 Toniebox
Our top pick! A child-friendly audio player that is simple to use, long battery life, and durable. The character Tonies will sure to delight your kids.
Toddler Audio Player Buying Guide
What to look for in a kids' music player
Let's face it – a product like this is not cheap (at least not if you want one with added features) so when you are scouting around for suitable players for your little one you want to be certain that you are getting good value for money.
Independence – Making sure that the player can be used independently should be near the top of your list of must-have features. After all, if they can use it themselves then it not only gives you a bit of space but also makes them feel more independent and in control (something which toddlers like, as we know!).
Easy and durable – A product that is easy to set up and durable are also key things that you should look for when considering which one to buy. It will most likely take a bit of a battering and you want it to last as long as possible!
Supported formats – You might also want to factor in which audio formats the player supports. There's no use choosing a player that relies on iTunes if you don't have Apple products to support it.
Design – Bearing in mind that it is meant for your child you also want to factor in the size and look of it. You want it to be appealing to them so that they want to use it.
Benefits of Listening to Music
Music is essentially magic for children of any age but for younger children in particular it has numerous benefits. Music is one of the only activities which stimulates the whole brain. So, whether it is listening to songs, singing nursery rhymes or playing a basic instrument (a drum for example) you can be certain that music is encouraging your child's development.
Nursery rhymes in particular help with speech, language and memory and playing an instrument no matter how basic can help with co-ordination and fine motor skills. This is in addition to building self-confidence and fostering creativity.
Music Players for Toddlers - FAQs
How can kids safely listen to music?
Playing music at high volumes through headphones (particularly the in-ear bud style) can have detrimental effects on anyone's hearing, so is something you want to avoid at all costs with your little one.
If they need to listen through headphones (on a car journey for example) a good test is that if you can hear it through the headphones, it is too loud. Teaching your children about having their music at an appropriate volume from a young age is something that will benefit them throughout their lives!
What kind of music should toddlers listen to?
Nursery rhymes are one of the best things for younger children to listen to. Nursery rhymes are repetitive and have simple melodies that are easy to remember. This helps children understand patterns and sequences (without realising it!) and aids memory and comprehension.
If they couple actions with the nursery rhyme then they are stimulating even more of their brain as they are performing movements at specific times to fit with the music – and we all know how hard that can be!
Classical music may not be the obvious choice for young children but listening to the music of certain composers (Mozart and Bach for example) who composed in very intricate yet logical ways has been proven to boost your brain power and is even alleged to help people perform better in IQ tests (The Mozart Effect). It can also be very calming so putting some classical music on when you want your child to calm down or go to sleep is something that is definitely worth trying!
If you are intent on keeping your little one away from screens for as long as possible but at the same time want them to have some independence and be able to listen to music or stories when they want, then a music player is a great option.
Music is fundamentally important to a child's development, so the earlier they can be introduced to music in order to foster a love of it and reap the benefits the better. Whether you would prefer a cute Bluetooth speaker or want to go all out and get a speaker, audio player, alarm and clock all in one there is plenty of choice out there so you are certain to find something that suits both you and the little person in your life.